If efficentcy is important to
you, than why not consider
a shift operation that
includes the holidays as
part of the initial planning
of the operation. This not
only makes your operation
far more efficient but also
makes it easy to run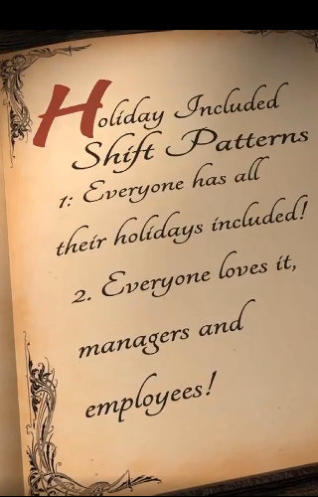 If you are having issues
with holidays, everyone
wanting the same week off,
why not have a Holiday
Management Plan. Then
everyone can get the
holidays they want without
affecting the operation
The 4on-4off shift pattern is
the most popular shift
pattern in the world. Our
series of videos on the 4on-
4off shift pattern explain
the problems and offer
solutions that work in
practice.
Make your reservation:
0800 - 455 - 123456789
123 Portobello Road
England GB 98765
© T. H. E. HOTEL
WELCOME to Dr
Angela Moore's
Training Videos
If your Company is thinking
about changing to new Shift
patterns. Let us help you.
Setting up a shift roster for
the first time is difficult and
time consuming.
Fortunately, you don't have
to do it alone, with our
specialist help and
appropriate software
specially designed for this
purpose you can create your
own shift pattern. Training
in Staff Rostering will make
you more productive and
efficient. There is no quicker,
easier or more effective
method of management
that will help your company
more, than staffing the
business correctly.

SHIFT WORKING
The management of Human
Resources is based upon Staff
Rosters. Your company will use staff
rosters, they are the most efficient
method of staffing any organisation.
VisualrotaX!